Hi MPS,
We are looking for a battery charger chip, capable of handling charging a power bank through USB-C. Moreover, it needs to be able to also use the USB-C connector for a standard wall mount power supply.
We have sketched the 3 scenarios here: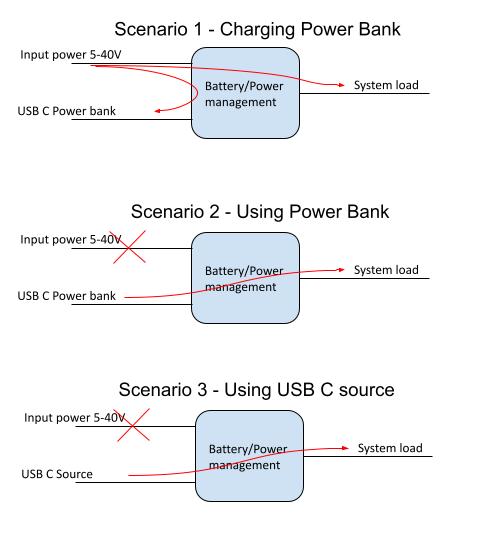 Scenario 1:
Standard scenario, where the device is connected to an input source, capable of delivering 5-40V. In this scenario the input power is patched to the system load and if a power bank is connected, then its charged.
Scenario 2:
The input power source is removed. The system load is using the power bank.
Scenario 3:
The input source is removed, but instead of a power bank a standard 5V wall socket USB-C power supply is used.
We have been having a hard time finding the appropriate IC, since most IC's use the USB-C input to power a battery and not to connect the battery to the USB-C input.
Any recommendations is appreciated.
/Biff