Can MPM3695-25 operate from single 3.3V power rail?
Hello,
As specified in the datasheet, the input voltage ranges from 3V-16V with external Vcc , you need to give an external supply to Vcc to make the module operate. Also, make sure to drive the CTRL pin high to turn on the regulator.



Datasheet:
https://www.monolithicpower.com/en/documentview/productdocument/index/version/2/document_type/Datasheet/lang/en/sku/MPM3695GRF-25/document_id/4474
Regards,
Yash Shah
we simply power VCC pin with 3.3V right? Not quite sure how the schematics should look like for ext VCC supply.
Yes, that should work. Here are the recommended operating conditions: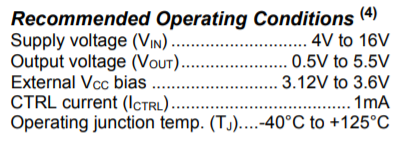 Regards,
Yash Shah