Hello, I created design with MPM3695-100 to power FPGA.
Now i implement my board with schematic shown below and DC doesnt starts.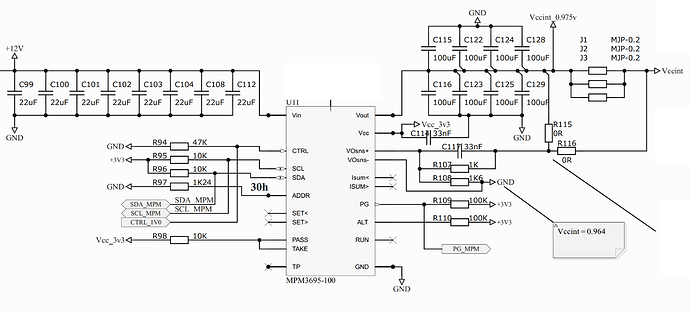 For first time i want test my design and dont connect them to FPGA. For testing R115 is placing, but R116/J1/J2/J3 DNP. When i power it up with +12V, at output i see 0.3V.
I find issue that i connect TP to each other, because reading I2C saw me some bad output data like I=5A for my unconnected output.
So i unsoldered IC, cut path, reball and resoldered my IC. Now i see 0.030 V in output. When i connect resistor load, output voltage being 0V.
I2C read and write correctly when i disconnect TP.
So i have 2 qestions:
Is my scheme correct and able to work?
Can i corrupt this IC with connecting TP to all together? Not to GND or VCC. Will resoldering new IC help?