Hi all
I'm using the MPM3515 to generate a 5V rail down from 9-32V input for a portable solution (battery operated either 12 or 24V batteries), so when trying to put the system in low power mode I'm want to reduce power consumption as much as possible.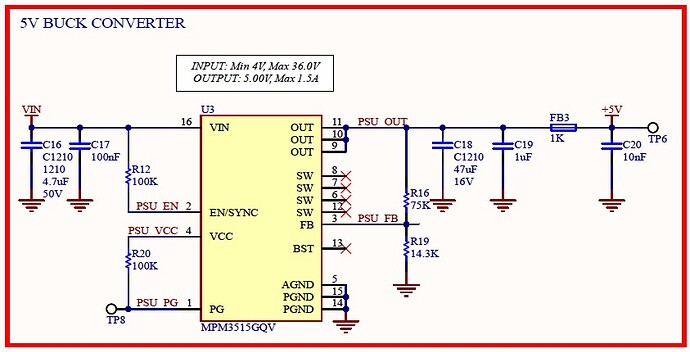 I've isolated all loads down the line after the 5V reg by removing FB3, so the only thing running on my board from the 12V input is the MPM3515, power consumption sits at ~15mA constant. If I remove R12 and leave EN/SYNC floating then the MPM3515 shuts down and the power consumption drop to 0mA.
What's the best way to identify why the module is taking so "much" current? Is it because the voltage regulation is not as efficient at smaller loads? How can I improve this?
Resistors are all 1%
C16part number is CL32B475KBUYNWE
C18 part number is GRM32EC81C476KE15L
These are the first batch of prototypes for my design, I've assembled 5 PCBs and all measure about the same quiescent current ~15mA
Any feedback is greatly appreciated.
Thanks,
Martin