Hi,
I am designing a buck converter with the MP9928 controller.
My parameters are Vin 20-40 V, Vout 5 V, Iout = 10 A, Fsw 500 kHz
I have an issue with the bottom gate drive. The signal is high for a very short period of time instead of being complementary with the high side. See attached oscilloscope capture (Top : switch node, Bot : low side gate voltage (the waform is not clean since I had no proper probe ground connection)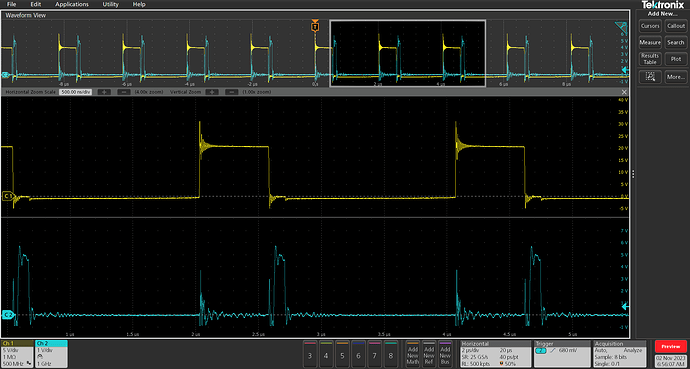 It happens whatever the input voltage from 20 to 40 V and load from 0 to 10 A. The low side antiparallel diode takes all the current during the expected low side conduction period.
I do not have the issue in MPSmart simulation.
I tested on different samples of the converter and the isssue is the same.
Do you have ideas what is causing the issue ? What could I investigate ?
Thanks in advance,
Téo Robert