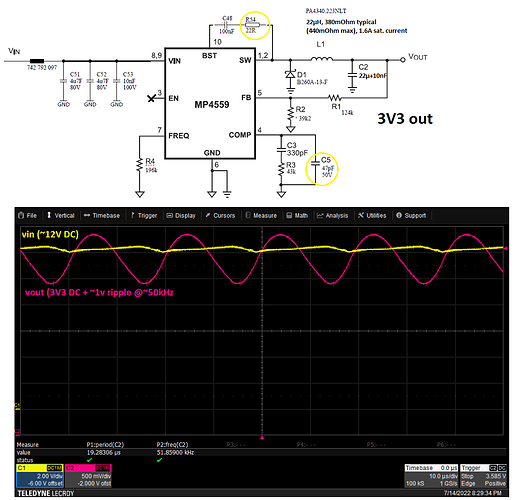 I have a newer design with MP4559 that has a ripple in addition to the 3V3 DC signal at the output when load is added.
The more load, the higher is the ripple.
In the picture we see: used schematic with highlighted differences to suggestion in datasheet. Output and input of 3V3 DC-DC-converter at higher load with the mentioned ripple. The ripple can be eliminated by removing C5.
We use this schematic in several designs with lower loads, and we had never a problem. But with this design we use 8 relais at 3V3 and the inductive load may not be compatible with the compensation network.
Anyhow, the ripple can be reduced by removing C5 and this is the part I have problems with understanding.
Is it possible that the C5 component is responsible for the ripple?
Are there other ressources / more infos than datasheet to define the compensation network?
The load of 8 relais is of course < 1,6A

thanks!