Hello,
I use a MP2731 on a client project and we cannot disconnect the
battery from the system (for shipping mode) with the DISC pin.
If I read the register REG0Ah ( BATFET Configuration ) I have the value 0x40.
So SYSRST_SEL = 0 -> hardware reset and Tdisc_l = 0 -> 8s holding to turn off the BATFET.
Here is a screenshot of Vbat, Vsys and Vdisc: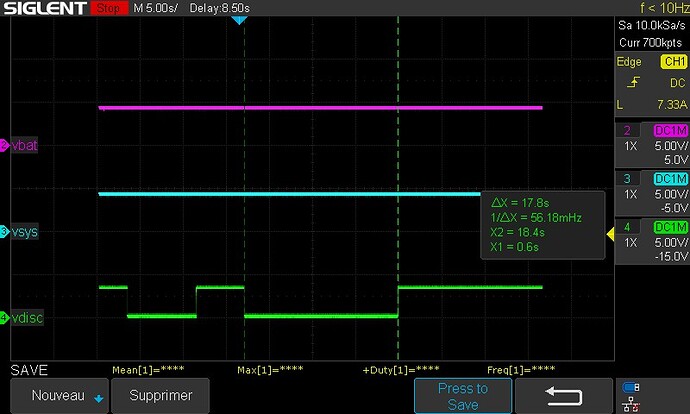 As you can see, Vbat and Vsys are around 4.1V, Vdisc = Vref around 3.3V and Vbus is not connected so 0V.
If Vdisc is held low during 8s or even more than 18s, nothing happens on Vsys…
Am I missing something? The datasheet only refers REG0Ah for this option, maybe something else needs to be set?
Thanks for your help!