Hi.
Im trying to design a charger for my project. Requirements are that should work with 5V 600mA solar panel and it should have power path with at least 2A output 4.1-4.3V. I was trying to find linear charger (for simplicity since my knowledge of electronics is very basic) but didn't find one that meet the requirements.
So i stumble upon this one that meets the criteruim (im still open for suggestion thou) bit it seems quite complicated with the analog ground which is a new thing to me. So i tried to draw the the scheme around this IC and i would appreciate if someone could check if the scheme is correct.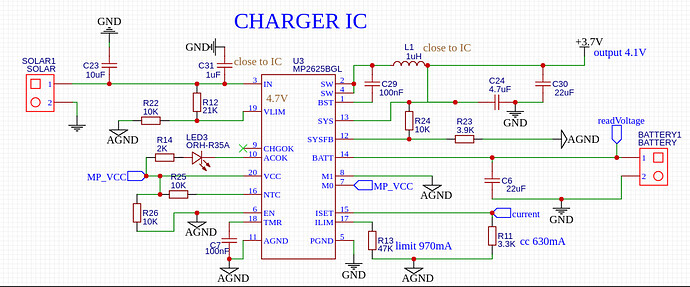 If i regulate output voltage to 4.1V will it be regulated to this voltage even at night when there is no sun or output voltage will equal battery voltage? In that case i would probably connect analog pin of Atmega328 so i could measure the voltage of the battery.

I notice that different package size is used in capacitors. Is this requirement or can I use the same size, for example 1206?