Hi MPSer,
May I know MP175 minimum start up voltage and current? thanks!
Hello,
Welcome to the forum.
The startup voltage and UVLO spec can be found from the datasheet of MP175. I am attaching the link and the paragraph were you can find the exact spec.
Let me know if you have more questions.
Datasheet: https://www.monolithicpower.com/en/documentview/productdocument/index/version/2/document_type/Datasheet/lang/en/sku/MP175GS-Z/document_id/3979/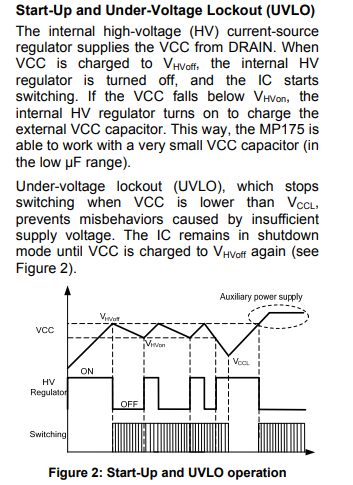 Regards,
Yash Shah
More to the point perhaps, is the minimum Off time is about 14usec the maximum ON time is 32 usec. Together don't those numbers equate to a maximum duty cycle of about 32/46 call it 70%.
So if your desired Vout is 12 the minimum Vin that can support is 17V.
thank you very much!
since we plan use MP175 design wide input range form 24VDC to 360VDC.
I would get a demo board if you can just to you know check.
Great, can you send a message to my mailbox? I look forward to the demo board.
Dude! I am just some guy on the internet. Talk to your MPS rep, or maybe you can buy it off their website or from Digikey. Good luck